Tickets to Taste of St. Croix Go On Sale Saturday
BY SOURCE STAFF — MARCH 21, 2014
Top U.S. chefs will converge on St. Croix next month for a week of dinners, wine tastings, lectures and book signings, climaxing with St. Croix's best chefs and cooks competing at the annual Taste of St. Croix at Divi Carina Bay Resort on April 10. VIP tickets are on sale online now, according to The St. Croix Foundation, which coordinates the gala fundraiser.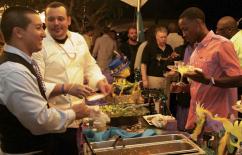 Regular tickets for Taste of St. Croix go on sale Saturday at 10 a.m. on St. Croix at Innovative Business Center and on St. Thomas at Urban Threadz. Any remaining Taste of St. Croix tickets not sold at the two outlets above will be on sale online around mid-day Saturday.
Go to the St. Croix Food and Wine website for tickets, dates and full information
This is the 14th annual Taste of St. Croix, an annual benefit for the St. Croix Foundation that attracts upwards of 2,000 food fanciers out to mingle and taste the artistry of more than 50 competing restaurants, caterers, amateur and semi-pro cooks, and chefs of every description.
The Taste of St. Croix, which the Forbes Magazine online travel site, Forbestravel.com, has named one of the 10 best food events in the world, has blossomed into a weeklong slate of food events raising money for charitable work and career culinary training and education called the St. Croix Food and Wine Experience. And it is now the third biggest annual event on St. Croix, after the Crucian Christmas Festival and the V.I. Agrifest, according to St. Croix Foundation President Roger Dewey. The Experience begins April 6 with "Cuisine on the Green," a tournament held at the Carambola Golf Club with tasty bites and drinks at every tee. Non-golfers are invited to tour the tastings via a golf cart.
On April 8, there will be a gourmet vintner dinner at Tutto Bene Restaurant. This year it features chef Sam Choy and vintner Christina Turley.
On April 9, chef Todd Gray hosts "Chefs Move to Schools" at UVI. Chefs across the country are answering First Lady Michelle Obama's call to get involved with their local schools as part of the Chefs Move to Schools initiative. Gray will discuss his work in the District of Columbia with the Murch School and how the same program can be done in the territory. This free talk will be in the UVI Great Hall at noon.
Also April 9, chefs will compete in "Food Fight!" on the beach by Eat@Cane Bay. As one of the most popular and exciting events of the week, Food Fight! has celebrity and island chefs teaming together to compete in a series of challenges that takes place right on the beach.
April 10 is the event that started it all: "A Taste of St. Croix." Held at Divi Carina Bay Resort, approximately 2,000 participants and guests sample the expertise of 55 restaurants, chefs, farms and caterers. Visiting celebrity chefs, winemakers, rum distilleries and breweries also offer samples of their best creations. As the only islandwide culinary competition of its kind, Taste of St. Croix also offers a thread of excitement throughout the night as restaurants are judged by renowned chefs and await the final results.
April 11 will see a "Sunset BBQ" on Frederiksted Beach where celebrity chefs share their grilling talents with local culinary students. Held in historic Frederiksted overlooking the water, residents can meet and mingle with celebrity chefs and enjoy unparalleled views as they dine and dance under the stars.
On April 12 at 10:30 a.m. at Pearl B. Larsen Elementary School, there will be a "Kids Cooking" demonstration. This youth event ignites excitement about cooking with little chefs learning to make simple, fun recipes under the instruction of both celebrity and local chefs.
For the adults that evening there is "Wine in the Warehouse," a wine tasting with winemakers, cocktail samplings, small bites and music in the Leeward Islands Warehouse. Check for ticket availability online.
Source: StCroixSource.com